MAKE THE ONLINE EASY
Marketer's Friend by Hamma.Digital
No-nonsense digital tools designed to help your business thrive.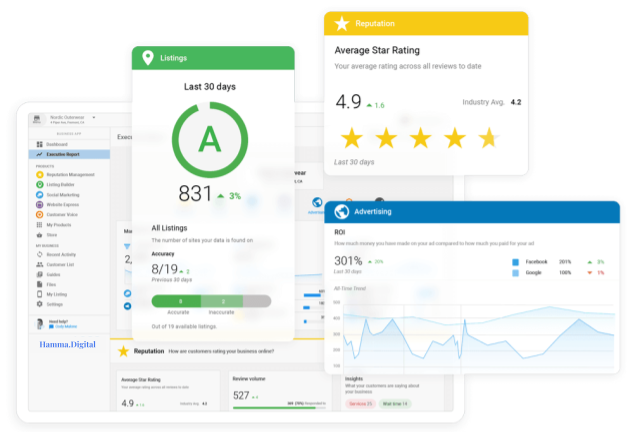 Marketing online can feel like a maze of smoke and mirrors.
Our simple set of tools clear up the essentials and let you spend more time concentrating on other key parts of your business.
Learn more about how it works.
Get listed in all the right places, including Google, at the push of a button. Our single-spot hop automatically gets you on 31 key business listings, while a special tool makes sure you're leveraging Google My Business the right way.
Make sure you're using all the right keywords to rank at the top of online search results. There are also tips on how to write a cracking business bio, and additional advice on how to leverage your key messaging.
Once you have the essentials sorted, it's time to get to the fun stuff. Our support team offers extra advice on how to grow your presence past the baseline - from social media advertising, digital newsletter campaigns, and more.
Who is this for?
It is for small, mid-sized businesses and marketing managers for medium to large-sized businesses. There are additional benefits for franchised or enterprise-sized corporations too.
What is it?
The Marketer's Friend demystifies online marketing with a simple digital toolkit.
It is a platform that you and your staff can log into that connects your business and its channels (website, social media) with tools and marketing services.
What does it do?
Our business basic package is designed to make sure businesses can be found by customers and prospects trying to find them.
Our business starter package is designed to make sure their business can be found, plus we have added an SEO package to help the business start to rank for products and services in their local area.
Our business growth package includes both of the above and also includes access to tools to help businesses start to request reviews and manage their online presence.
What if I want help with other things?
We have a number of add-ons and additional services that we offer outside of our base packages. These include social media, website development, digital advertising, content development and more.
O.k. I want to get going, how do I get started?
Great. If you are ready to sign up, simply click the "Apply Now" buttons found on the site and follow the instructions. Once you have completed that, we will be in touch as soon as we get it to arrange some time to talk and to book in your onboarding session.
How long does it take to see results?
Depending on what product you go with, you will need to provide us with some basic information and access to your channels. For local SEO we also require site access (you can provide edit access to an email address that we will provide)
Why is there an onboarding fee?
Sometimes it takes a bit of back and forth for us to organise everything that we need. Plus, we want to make sure that you are 100% happy with how you'll be presented on the platform. Unfortunately, we still have to use old-fashioned manual meetings and discussions to understand how you and your business works. Fortunately, it's with our team and we think we're the best.
The onboarding fee is the same as the monthly charge, however, we're happy to bill upfront first, and then at the end of the month to keep cashflow in check.
Anything else?
If you have any further questions, we are always looking to improve these FAQs and are open to making things better for you moving forward. If you have any comments or questions (good bad or otherwise), please reach out to feedback@hamma.digital and we will personally get back to you ASAP.